Why Build a Second Kitchen In Your Basement
Posted on November 07, 2023
Your home should be both a place of comfort and practicality. Building a second kitchen in your basement might initially sound extravagant, but it comes with numerous advantages that can enhance your daily life, boost your property's value, and improve the overall allure of your home. We explore compelling reasons why investing in a basement kitchen is a wise choice. Home upgrades from kitchen renovations in Burlington to basement renovations in Burlington, are made easier with the professional services of Rose Building Group. The team of experienced renovation contractors at Rose Building Group provide Burlington, Hamilton, Oakville and the surrounding Southern Ontario region with skilled workmanship, high-quality materials, and reliable communication to support stunning and functional home renovations.
To learn more about the benefits of building a second kitchen in your basement, read on.
Convenience and Accessibility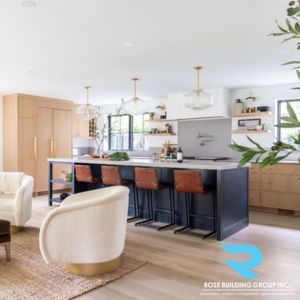 The main reason to consider the addition of a second kitchen in your basement is the convenience it offers. This extra culinary space can function as a central hub for meal preparation, particularly during special occasions and gatherings. It eliminates the need to constantly ascend and descend the stairs to access your primary kitchen, simplifying meal preparation. Whether you're hosting a family dinner or entertaining guests, a kitchen renovation in your basement ensures that all necessary ingredients and utensils are within easy reach, preserving the flow of your event. It also proves to be incredibly practical for elderly family members or individuals with mobility challenges, as it minimizes the need for stair climbing. Working with the Rose Building Group team of renovation contractors you can ensure that your kitchen is equipped with the most functional furnishings, powerful appliances, and beautiful decor.
Basement Renovations Enhance Property Value
Investing in basement kitchen renovations in Burlington can significantly increase the value of your property. In the real estate market, the presence of multiple fully functional kitchens is a unique selling point that can attract potential buyers or renters. Prospective homeowners often seek additional amenities, and a basement kitchen can serve as a compelling feature that differentiates your property from others. While it might entail an initial expense, the potential return on investment for a basement renovation in Burlington makes it a sound financial decision. When you choose Rose Building Group to build a secondary kitchen, the experienced contractors will ensure that your entire basement upgrade is up to code.
Versatile Entertainment Area
Your basement can be transformed into a versatile entertainment space with the incorporation of a second kitchen. Beyond its utility in meal preparation, it can serve as a stylish bar area or even a convenient snack station. This adaptable entertainment space can be tailored to your preferences, incorporating features like a wine cooler, a sleek bar countertop, and extra seating for guests. Your basement kitchen can evolve into a social hub, enhancing your hosting capabilities and creating unforgettable experiences for friends and family. It's not limited to just cooking; it's about crafting a unique atmosphere for entertainment.
Improved Energy Efficiency
Adding a second kitchen in your basement can positively impact your home's energy efficiency. During the scorching summer months, you can avoid heating up your main living areas by cooking in the cooler basement spaces. Similarly, in the winter, having a basement kitchen allows you to distribute cooking heat without overburdening your central heating system. This leads to reduced energy bills and a more comfortable living environment throughout the year.
Work with the best Renovation Contractors
With the help of professional renovation contractors, Rose Building Group, incorporating a second kitchen into your basement is a pragmatic, valuable, and adaptable home improvement endeavour. It offers convenience, boosts property value, and provides a flexible space for entertainment. Additionally, it contributes to improved energy efficiency, making your home more environmentally responsible. Whether you're looking to enhance your daily living or attract future buyers, Rose Building Group can transform your home into a more efficient and appealing living space, making it a worthwhile investment.