Luxurious Bathroom Renovations in Hamilton
Transform Your Bathroom | Unique Modern Designs | High-Quality Materials
Do you want to optimize your bathroom space and give it a fresh look?
At Rose Building Group, we take care of the designing, planning, and renovating from start to finish. With over 14 years of experience, competitive pricing, and a team of skilled craftsmen, we're confident you'll love your new and improved bathroom renovation in Hamilton.
Make The Bathroom Your Oasis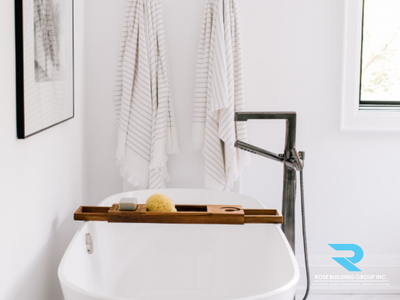 Are you ready to declutter and organize your space? With high-quality services from leading home renovation contractors, you can revolutionize the look and feel of your bathroom in no time. From lighting fixtures to gold tubs and anything in between, Rose Building Group is your top choice when choosing a bathroom remodelling contractor in Hamilton and surrounding areas.
At Rose Building Group, our professionals are certified and highly experienced in remodelling and renovations. We offer many services such as:
Endless customizations
Quartz countertops
Custom shower construction
New frosted or clear windows
Flooring refurbishment
Insulation repair or replacement
And so much more!
It's time to schedule your bathroom renovation in Hamilton.
Ways You Can Remodel Your Bathroom
Customizations: Perhaps you want to enhance your luxurious side and detail your washroom with gold faucets and accents, or maybe you want new tiles with heated flooring. The team at Rose Building Group can do it all. Your bathroom is bound to be extraordinarily unique with the various personalization bathroom renovation options offer. Don't wait any longer - enjoy the bathroom of your dreams today!
Lighting: Lighting can make a room all the difference with various options, including new light fixtures, LED lighting, overhead shower lighting, and under-the-cabinet lighting. Whether you want to upgrade your ceiling, wall sconce, or vanity lighting, we promise to make your room shine. Choose a bathroom remodelling contractor in Hamilton experienced in electrical lighting and installation for best results.
Storage Space: Do you have a bunch of stuff lying around your bathroom that doesn't have designed storage space? It's common to have many items in your washroom that do not have efficient or accessible storage space. At Rose Building Group, our team specializes in building customized storage for your bathroom so that you can easily function in your bathroom while maintaining tidiness.
The possibilities are endless with Rose Building Group. See for yourself with contemporary bathroom remodelling in Hamilton.
Rose Building Group Is Your Top Choice For Bathroom Renovations
Rose Building Group was formed from an idea to bring people together who shared the same passions for high-quality home renovations. Our goal is to treat all of our clients as if they were family. We are a dedicated group of professionals committed to getting the job done right. No matter what you choose to do with your space, we've got you covered from the first to the final day of the project.
At Rose Building Group, we offer:
Highly dedicated & skilled technicians
Premium technology & materials
One-year after-care warranty
Focus on cleanliness
And more!
Contact us today for your dream bathroom renovation.